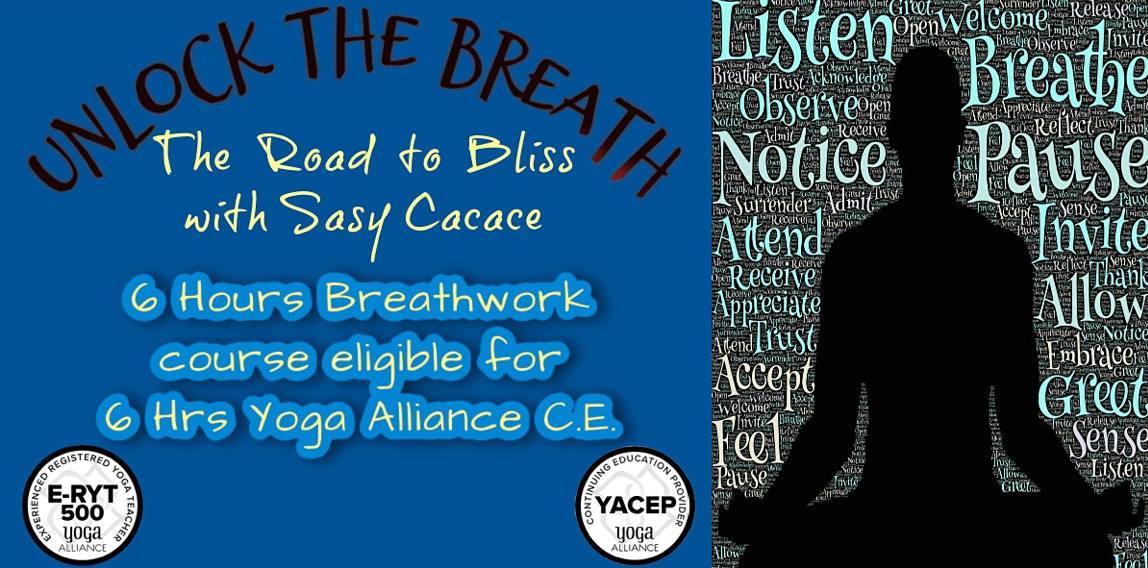 DO NOT WASTE TIME! RESERVE YOUR SPOT HERE: https://www.eventbrite.ca/e/162847576485
Getting a profound understanding of breathing to take care of all the body-systems, your mind and move the awareness to the Soul level.
In this on-line course eligible for 6 hours Continuing Education with Yoga Alliance you will learn how to use your breath to increase body's energy, health and awareness. 
An intensive self-experience Breathwork/Pranayama course to:
-Understand your breathing
-Take care of your body/mind system
-Deepen your awareness to move beyond the awareness sheath (awareness layer) to the bliss sheath (bliss layer)
-Become aware of the deeper layers of the selfAbout the Techniques you will learn in this Pranayama course:
-The Locks (Bandhas)
-The Retentions of Breath (Kumbhakas)
-Belly Breathing
-Yogic Breathing
-Alternate Nostrils Breathing (Anuloma Viloma)
-Shining Skull Breathing (Kapalabhati)
-Fire Breathing (Bastrika)
-Humming Bee Breathing (Brhamari)
-Equal Ratio Breathing (Samavritti)
-Not Equal Ratio Breathing (Asamavritti)
-Stepped Breathing (Viloma)
-Mantra Breathing
-Rolling Tongue Breathing (Sitali)
-Smiling Breathing Breathing (Sithkari)
-Ocean Sound Breathing (Ujjay)
You will also learn modifications to enhance and control these techniques to suit your own practice.
Who this course is for:
Everyone. Everyone who wants to learn more about the power of breathing. Everyone who wants to deepen their yoga practice. Every yoga instructor who wants to learn more about Pranayama. Breathwork/Pranayama is one of the 5 key elements in F.R.Y. The Method session.
When:
Saturday September 18, 2021: from 8am to 11am
Sunday September 19, 2021: from 8am to 11am 
Price: $130.00 CAD + HST + fee through Eventbrite
Certification: After completing this online Pranayama course, you will receive a certificate to upload in your Yoga Alliance dashboard.
About the Teacher:
Sasy is a 500 hours Yoga Alliance Experienced Registered Yoga Teacher (E-RYT 500) and Yoga Alliance Continuing Education Provider (YACEP). He has been lived and taught yoga in many studios in Northern Italy, in Fuerteventura (Spain), India (Mysore), Nepal (Pockara) and all of 2018 in Los Angeles (USA).
He also has some experience in Karma Yoga including Anand Prakash Ashram in Risikesh (India) where he led Vipassana Meditation and Karuna Home for Disabled and Orphaned Children in Bylakuppe/Mysore (India) where he taught Yoga in a Yoga Studio inside the Tibetan Camp 1. On March 2020 he completed his three months of Karma Yoga at Sivananda Ashram Bahamas.
Sasy is a former Italian Police Detective and chief who has spent 20 years serving the Italian Government in the field of crime and narcotics. Knowing very well the stress and all the consequences that First Responder service can bring into the personal life of every single officer or member, Sasy was inspired to offer training for First Responders. Drawing on his past in law enforcement and the knowledge he developed since 2005 in the fields of meditation, stress reduction, Yoga and trauma-informed movement, Sasy co-founded together with Julia Long, F.R.Y. First Responders' Yoga Canada, a tool box mind body wellness that compiles breathwork, functional yoga movement, trauma informed Yoga, meditation and positive affirmation techniques, designed for First Resopnders by First Responders, tailored to their needs. And with the F.R.Y. The App the tools are available anytime, anywhere, when needed, at a push of a button.
In 2005 Sasy started his spiritual quest and decided to dedicate his life to yoga since 2014. 
He is the author of "The Key to Happiness" and "Yin Yoga", two manuscripts in which he shares a glimpse of his personal spiritual journey, some easy-to-understand neuroscience about meditation and deep breathing, life-altering tools that transformed his daily living. in 2020 he co-authored his 3rd book together with Julia, "F.R.Y. First Responders Yoga. The Book". All the manuscripts are available on Amazon, both paperback and digital formats