What is FRY for Schools / Educational institutions?
FRY is a toolbox for First Responder mind-body wellness, that compiles breathwork, trauma-informed functional yoga movement, meditation, lifestyle and positive affirmation techniques and relaxation in one place, designed for First Responders by First Responders, tailored to their needs.
The FRY Toolbox can help YOUR students. It includes:
Live streamed classes and events and over 700 videos on life style, mind-set suggestions, breathwork, injury-prevention, stress management, energetic and passive movement (yang & yin), relaxation techniques, positive affirmation, neuroplasticity, mindfulness, trauma-informed approach and specialized classes are available at a push of the button.
NOTE: Users' privacy is maintained. During live classes a user cannot see other users nor can the teacher. No one knows when a user logs into FRY The APP. We respect all users' privacy.
FRY The APP is available in US and Canada.
BOOK A DEMO OF THE APP BY CLICKING HERE

FOR GROUP PRICING ON FRY THE APP SUBSCRIPTION CLICK HERE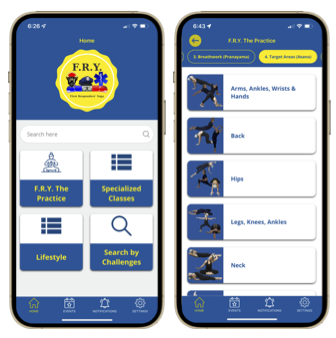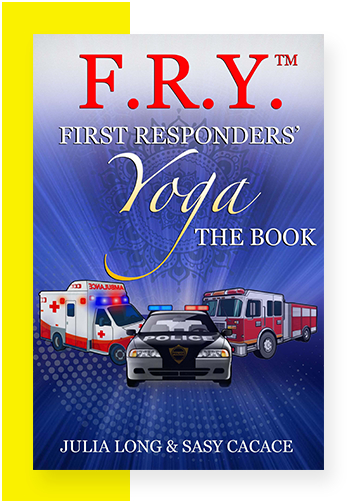 2. First Responders Yoga. The Book
It is the culmination of interviews with First Responders, literature reviews and studies related to injuries of First Responders, fitness training, yoga education all merged with personal practices and experience as First Responder.
The App is the virtual representation of FRY The Method.
3. Live virtual / in person
(where available) FRY The Method sessions for First Responder workplaces, leading the group through all 5 important elements of the FRY The Method: breathwork, movement, relaxation, positive affirmation and meditation.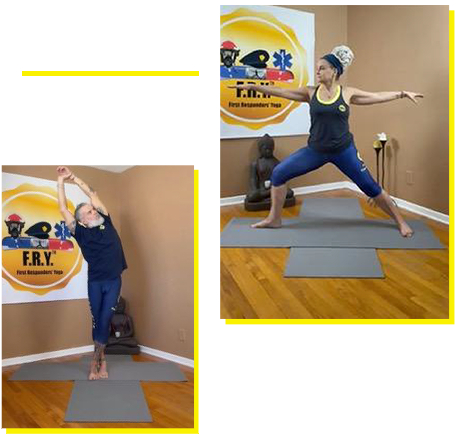 4. Intensive Employer-Sponsored / School-Sponsored 20hr Workshops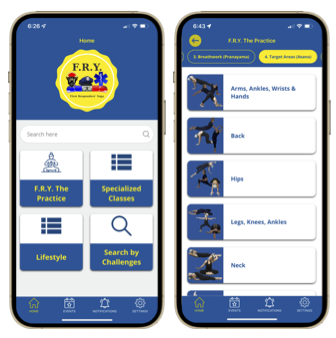 For one low monthly fee, your students can get access to:
Library of Movements
Passive Yin

Energetic Yang

Trauma-informed

Introductions of movement benefits for First Responders, target areas and cautions

Practice-along videos
On Demand (Archived) Classes
Search by Challenges faced by First Responders with suggested breathwork, movements, relaxation, positive affirmation solutions
Lifestyle tips for an equilibrium practice for a better life movement
An important part of learning to become a First Responder is learning how to manage the stress of daily work. Along with the positives of the job for which your students are training, you also know the demands of the job: physically, mentally and emotionally. Not only do they have to expend great amounts of energy to carry out their duties, you know they need to care for the body, to workout, to keep the body and mind healthy to be able to meet the demands of the job. Start your students on their career with the right tools for their mind-body success! School Rates are available for Recognized Training Schools for Police & Fire Services, EMT/EMS, and Dispatch.
We are also available to:
Speak at your events
Topics include:

Impact of Stress on You
How to Use Positive Affirmations
How to Create the Life You Wish to Live™ (Neuroplasticity)
The Virus of Fear
The Benefit of Yoga and All Its Tools (Meditation, Breath Work) Can Have on Your Overall Health

Add to your curriculum.
CONTACT US for more details of FRY's Offerings 
or 
book an appointment at your convenience by using our Calendar at this LINK 
Absolutely NO yoga experience is required. The information will be of interest to the beginner yoga practitioner and the experienced. We hope you too see the value of this course for First Responders. We are available to answer any further questions you may have.
FRY is MORE than a Yoga Class.
It is an equilibrium practice for better life movement.