Individual First Responders
Three key issues we heard during our interviews with First Responders, Dispatch and
your management:
Timing of public classes do not fit with erratic shifts.
No one source for relaxation, meditation, movement and mind-quieting techniques, nor specific to First responders' needs.
With FRY The APP the tools are available for you ANYTIME, ANYWHERE, when needed, at a push of a button.
Join us for breathwork, trauma-informed functional yoga movement, lifestyle, meditation and positive affirmation techniques, designed for First Responders by First Responders, tailored to your needs.
Join a FRY The Method Class, available through the FRY The App, or follow the "How to" videos on your time!
Live streamed classes and events and over 700 videos on life style, mind-set suggestions, breathwork, injury-prevention, stress management, energetic and passive movement (yang & yin), relaxation techniques, positive affirmation, neuroplasticity, mindfulness, trauma-informed approach and specialized classes are available at a push of the button.
NOTE: Users' privacy is maintained. During live classes a user cannot see other users nor can the teacher. No one knows when a user logs into FRY The APP. We respect all users' privacy.
FRY The APP is available in US and Canada.
FOR INDIVIDUAL SUBSCRIPTION PRICING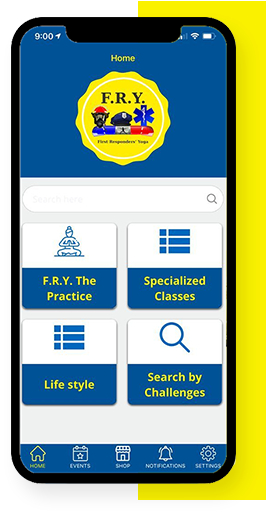 Did you know that FRY offers volume discounts to First Responders organizations such as Departments, Unions and Training Schools? 
If this is of interest to you, HERE we have a draft email you could send to your Chief, your Wellness Team, your Occupational Health & Safety, or your union. 
Alternatively, if you would like us to reach out to them on your behalf, feel free to send us their names and email addresses.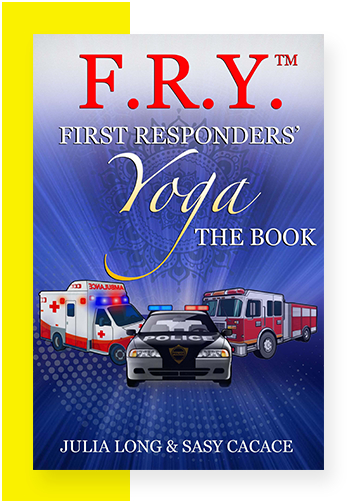 First Responders' Yoga. The Book
It is the culmination of interviews with First Responders, literature reviews and studies related to injuries of First Responders, fitness training, yoga education all merged with personal practices and experience as First Responder.
The App is the virtual representation of FRY The Method.
Absolutely NO yoga experience is required. The information will be of interest to the beginner yoga practitioner and the experienced. We hope you too see the value of this course for First Responders. We are available to answer any further questions you may have.
FRY offers group and employer discounts, sessions, workshops and talks
See the Pricing Page for more info!