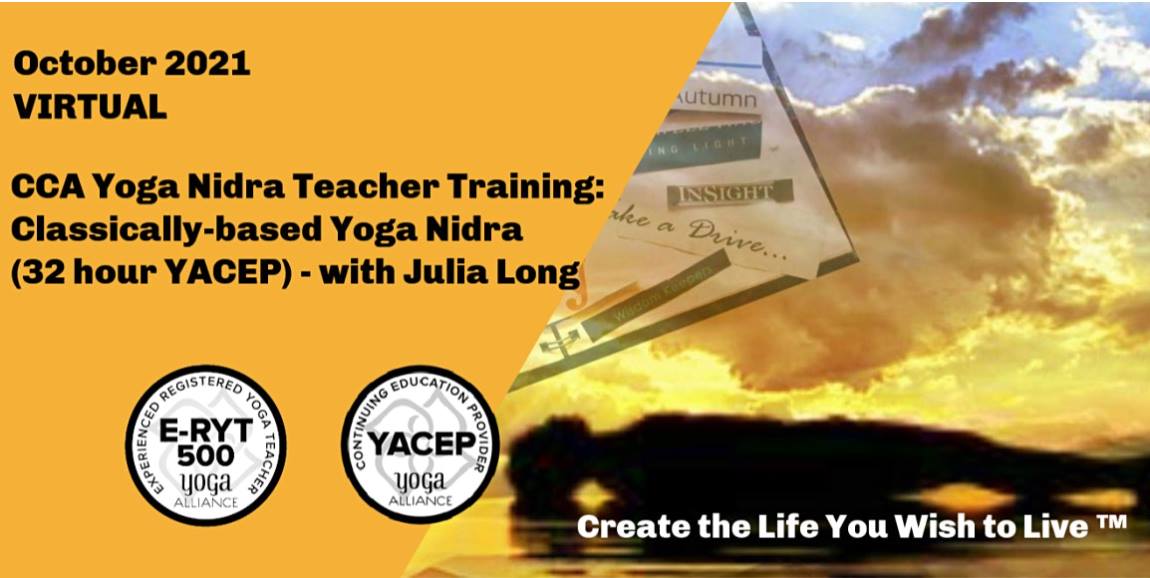 Reserve your spot and buy your ticket here: https://www.eventbrite.ca/e/162941433213
COST: $795 CAD + HST and fees through Eventbrite (32 hours of Instruction PLUS 2 Certifications – Yoga Alliance Credits and Listing with California College of Ayurveda as a CCA-YN Instructor)
CLASSICAL YOGA NIDRA TEACHER TRAINING (Virtual) 32hrs (CCA YOGA NIDRA) – with Julia Long
Create the Life You Wish to Live ™
WHEN: From October 13- 31, 2021
Schedule:
– Wednesday October 13 : 6:00PM to 9:15PM
– Saturday October 16: 8AM to 1:00PM (with 15 min Break)
– Sunday October 17: 8AM to 1:00PM (with 15 min Break)
– Wednesday October 20: 6:00PM to 9:15PM
– Saturday October 23: 8AM to 1:00PM (with 15 min Break)
– Sunday October 24 : 8AM to 1:00PM (with 15 min Break)
– Wednesday October 27: 6:00PM to 9:15PM
– Saturday October 30: 8AM to 1:00PM (with 15 min Break)
– Sunday October 31: 8AM to 1:00PM (with 15 min Break & Graduation Celebration)
WHO: Anyone interested in a deeper understanding of Yoga Nidra for their own practice OR Yoga Teachers interested in Certification. No experience with Yoga Nidra required.
RELAXATION*VISUALIZATION*MANIFESTATION ™
WHAT'S INCLUDED:
32 hrs Classical Yoga Nidra Teacher Training Certification – Yoga Alliance Credits AND Certification from the California College of Ayurveda (CCA)
LEARNING OBJECTIVES:
– Teach Classical Yoga Nidra as taught by CCA in group and private settings,
– Use Yoga Nidra for SELF-HEALING,
– Develop an understanding of the physiological basis of Yoga Nidra (science behind), and
– Establish an understanding of the history of Yoga Nidra
– Meditative group and individual activities
– Practice Teachings
– Peace, Serenity, Self-reflection, Growth
WHAT IS YOGA NIDRA?
In Classical Yoga Nidra we guide the physical body to deep relaxation so that we can expand and connect to the energy of the life we wish to live: healthy, stress-free, successful, accomplished etc. In modern science terms we use neuroplasticity to guide us towards the life we chose to live. It is NOT sleep. It is active creation. We practice relaxed, lying down in corpse pose (savasana). You can read more here: https://prolongyoga.com/single-blog-post/
Yoga Nidra is one of the key elements of F.R.Y. The Method.
ABOUT THE TEACHER
Julia (Dharma Gian Kaur) is an Advanced Sivananda Yoga Teacher, certified California College of Ayurveda (CCA) Yoga Nidra Teacher Trainer, and a Kundalini Yoga Teacher based in Ottawa, Canada. She has been teaching and providing CCA Yoga Nidra sessions in groups and privately for many years. She is currently the only Classically-based Yoga Nidra Teacher Trainer in Canada (CCA-YN). She is also a certified Canadian Fitness Professional (CanFitPro). She has over 1000 hours of yoga training, including trauma-informed movement. She is a co-founder of F.R.Y. First Responders' Yoga Canada. She has 2 sons who are First Responders which spawned the creation of F.R.Y.- She is a co-Author of the book "F.R.Y. First Responder Yoga. The Book" available on Amazon, both paperback and digital format.
Julia holds a Bachelor of Business Administration, a Bachelor of Laws and was a practicing lawyer. She has used her skills as a leader in the federal arena to help keep chemical substances of concern out of the Canadian environment. She is also a member of the International Society of Female Professionals. She is writing and publishing in various journals on topics of wellbeing.
Julia is a Registered Yoga Alliance Instructor (RYT-500) and also a Yoga Alliance Continuing Education Provider (YACEP).