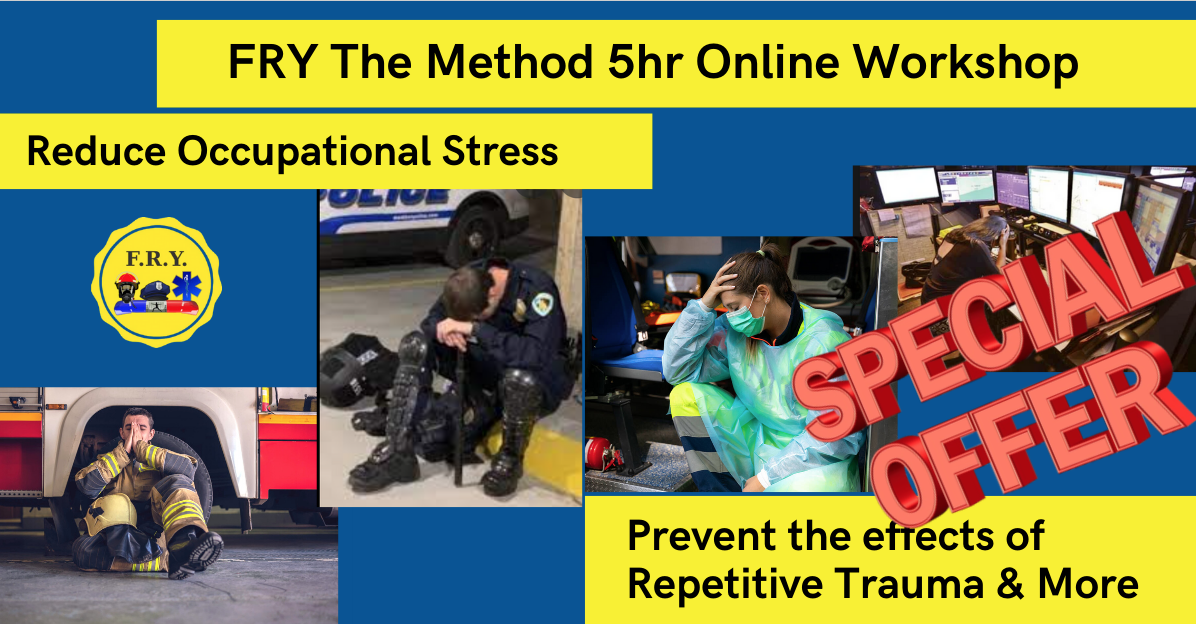 5-Hour Online Workshop Overview in FRY The Method. January 28, 2023
This 5-Hour Online Workshop in FRY The Method is of interest to:
First Responders (Dispatch, Paramedic, Police, Fire & Volunteer Services, and their management);
Yoga Teachers interested in future certification in FRY The Method and licensing to teach through the FRY The APP platform (paid) and/or In-Person FRY The Method Classes (paid). 
The 5-Hour Workshop does qualify for 5 Continuing Education Credits for Yoga Alliance for RYTs (Registered Yoga Teachers).
5-Hour Online Workshop Overview in FRY The Method Learning objectives
Overview of FRY The Method, outlined in "F.R.Y. First Responders Yoga. The BOOK", available on Amazon and digitized in FRY The APP, available for iPhone and Android
Learn how to manage mental health, injury prevention, stress, and build resilience in active, high-trauma jobs;
Understand the science behind and impact of breathwork, functional movement (energetic yang and deep tissue stretching yin), relaxation techniques, positive affirmations, and meditation on mind-body well-being; and
Experience the effect of a FRY The Method class on the nervous system, the physical body, and overall well-being;
1-to-1 consultation with cofounders after the workshop (to be booked in advance).
5-Hour Online Workshop Overview in FRY The Method. How to Reserve your Spot
Reserve your spot now and start your journey towards your Mind-Body Wellness by clicking this LINK

Take 2 Spots & Pay for 1
We have a Special Offer for YOU: Bring in your buddy for FREE. You two can share the fee if you wish (that's between you two
).
Just invite your buddy to fill out the form below once you have registered. You can also do it for him/her. Please share with your buddy the Zoom link you already have:
More about FRY The Method
To develop FRY The Method, The Book, and The APP which is a digitization of the Book, FRY conducted dozens of interviews with First Responders and performed in-depth scientific literature reviews at various stages: when establishing FRY The Method, designing and developing FRY The APP, and during the APP testing phase.
Studies and interviews show that First Responders experience:
5 times greater physical injuries, 
sleep disorders due to shift work, 
anxiety and inability to relax or "let go", and 
30 percent develop conditions such as depression and PTSD
It is important to note that these statistics are from BEFORE the past Pandemic Year. 
Three key complains they heard from First Responders were:
No time for self-care;
The timing of public classes do not fit their erratic shift; and
There is no one source for relaxation, meditation, movement, and mind-quieting techniques, nor specific to their need 
FRY IS ALWAYS WITH YOU, EVERY TIME, ANYWHERE, 24/7 AT A PUSH OF A BUTTON
Enter FRY The APP. A toolbox for mind-body wellness and resilience, that compiles breathwork, functional yoga movement (energetic and passive deep tissue stretching), meditation, and positive affirmation techniques, designed for First responders by First Responders, and tailored to their needs. And with the APP the tools are available anytime, anywhere, when needed, at a push of a button 24/7 with no geographical limitation. 
Giving Back to Those Who Serve. 
This is our vision and from this FRY The Method and FRY The APP were created. So the 5-Hr Workshop in FRY The Method.