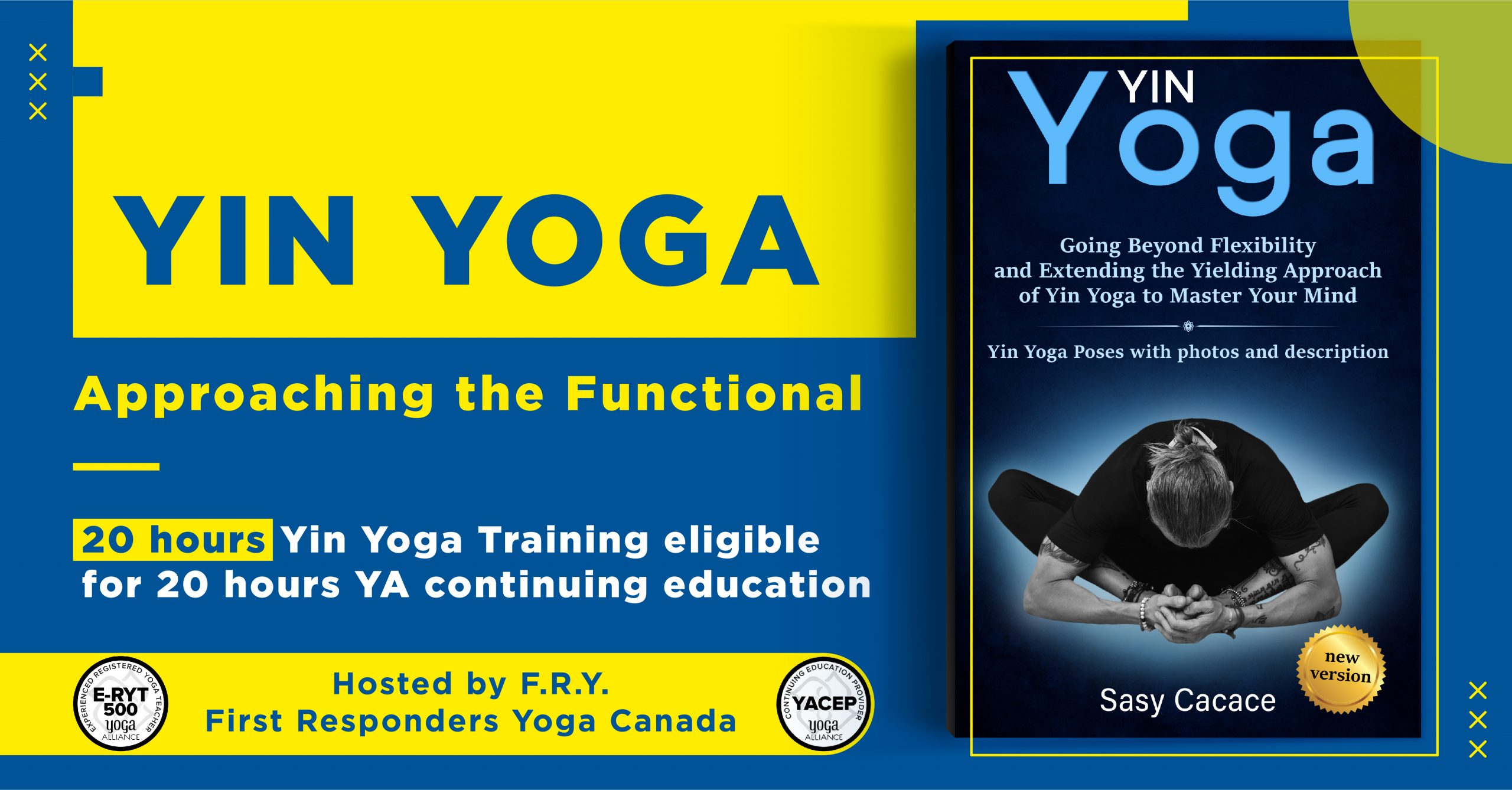 "Yin Yoga. Approaching the Functional with Sasy Cacace" course is eligible for 20 hours of Continuing Education with Yoga Alliance.
With this course you will learn:
What is Yin Yoga
Overview of CHI and Meridian channels, according to Chinese Medicine
What is the functional approach to Yoga
The differences between the performance and the functional-introspective approach that can be applied to all forms of Yoga
How to teach functionally
The 14 Skeletal segments and the 10 Muscles groups involved in the entire Yoga practice
Why the skeletal variations are important
The 5 Archetypal Yin Yoga Poses and their variations, that can be adapted to each and every student
And more
This course is of interest to all people learning yoga to deepen your practice as well as to instructors who wish to deepen their understanding of movement in yoga.
COST (Canadian Dollars):
Early Bird: $377.50 (25% discount)+ HST before December 3, 2021
General Admission: $450 + HST thereafter
TIME TABLE OF THE COURSE (all times are in EDT):
Saturday January 22, 2022: 8am-12:15pm (15 minutes break)
Sunday January 23, 2022: 8am-12:15pm (15 minutes break)
Wednesday January 26, 2022: 7pm-9pm
Saturday January 29, 2022: 8am-12:15pm (15 minutes break)
Sunday January 30, 2022: 8am-12:15pm (15 minutes break)
Wednesday February 2, 2022: 7pm-9pm + Graduation
Certification will be delivered by email to the attendees who participate in the full course.
Tickets available at this link: https://www.eventbrite.ca/e/164762979507
Info about the teacher:
Sasy is a 500 hours Yoga Alliance Experienced Registered Yoga Teacher (E-RYT 500) and Yoga Alliance Continuing Education Provider (YACEP). He has been lived and taught yoga in many studios in Northern Italy, in Fuerteventura (Spain), India (Mysore), Nepal (Pockara) and all of 2018 in Los Angeles (USA).
He also has some experience in Karma Yoga including Anand Prakash Ashram in Risikesh (India) where he led Vipassana Meditation and Karuna Home for Disabled and Orphaned Children in Bylakuppe/Mysore (India) where he taught Yoga in a Yoga Studio inside the Tibetan Camp 1. On March 2020 he completed his three months of Karma Yoga at Sivananda Ashram Bahamas.
Sasy is a former Italian Police Detective and chief who has spent 20 years serving the Italian Government in the field of crime and narcotics. Knowing very well the stress and all the consequences that First Responder service can bring into the personal life of every single officer or member, Sasy was inspired to offer training for First Responders. Drawing on his past in law enforcement and the knowledge he developed since 2005 in the fields of meditation, stress reduction, Yoga and trauma-informed movement, Sasy co-founded together with Julia Long, F.R.Y. First Responders' Yoga Canada, a tool box mind body wellness that compiles breathwork, functional yoga movement, trauma informed Yoga, meditation and positive affirmation techniques, designed for First Resppnders by First Responders, tailored to their needs. And with the F.R.Y. The App the tools are available anytime, anywhere, when needed, at a push of a button.
In 2005 Sasy started his spiritual quest and decided to dedicate his life to yoga since 2014.
He is the author of "The Key to Happiness" and "Yin Yoga", two manuscripts in which he shares a glimpse of his personal spiritual journey, some easy-to-understand neuroscience about meditation and deep breathing, life-altering tools that transformed his daily living. in 2020 he co-authored his 3rd book together with Julia Long, "F.R.Y. First Responders' Yoga. The Book". All the manuscripts are available on Amazon, both paperback and digital formats.
Sasy's personal website: www.sasycacace.com