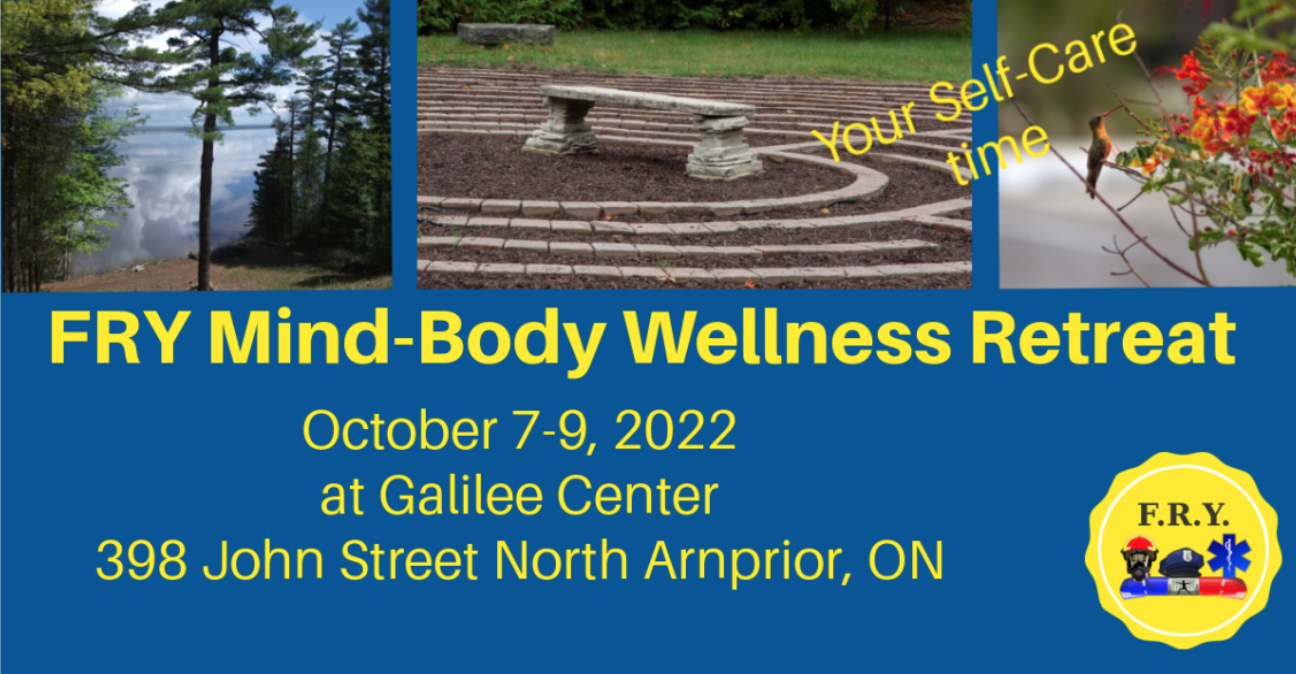 FRY Mind-Body Wellness Retreat is a thoughtfully designed retreat to deliver an exceptional experience, a blend of tranquillity and insight. A unique holiday that has the power to transform your life.
Join this retreat in the splendid beauty of Gallilee Centre's nature to discover the wisdom in your life and be nourished, inspired, and empowered by the view of the Ottawa River, the nature all around, silence observed until after breakfast, Yoga both Yang and Yin approaches, Meditation, Breathwork, Yoga Nidra and Circle of Fire ceremony.
Step out of the daily hustle and bustle and step into a Yoga practice and discover your own inner dimension.
You will be introduced to the 5 key segments of the FRY The Method class which includes Meditation, Breathwork, Asana both Yang and Yin approaches, relaxation, positive and affirmation and Mindfulness, tools for stress management, calming your life and learning to let go.
No Yoga experience is necessary. We will give you the tools to start or enhance your Yoga practice
WHEN
Friday October 7th to Sunday October 9th, 2022.
WHO
Anyone interested in stepping out of the daily hustle and bustle and stepping into a Yoga practice and discovering their own inner dimension.
Anyone involved in high trauma jobs such as Dispatch, Paramedic,Police, Fire and Volunteer Services and their Management.
WHERE
The Galilee Centre
Address: 398 John Street North, Arnprior ON K7S 2P6 (just outside of Ottawa Ontario Canada)
Website: www.galileecentre.com
WHAT IS INCLUDED
– 2 nights basic accommodation (single) at the peaceful and serene Galilee Retreat Centre adjacent to an old growth forest overlooking the Ottawa River, complete with meditative labyrinth, river beach and forest path
– 6 healthy vegan meals with gluten free options (first meal: Friday dinner; last meal: Sunday lunch). Any food allergies need to be communicated by September 17th
– 12+ hours of Yoga (Yang and Yin approaches), Meditation, Yoga Nidra and positive affirmations, Pranayama (Breathwork)
– Introduction to the FRY The Method
– Q&A about Yoga Lifestyle and Philosophy
COST
– Early Bird: $ 635.00 CAD until August 15th, 2022 (Full payment is required to take advantage of the early bird price)
– After August 15th 2022 full cost of $ 695.00 CAD ($ 350.00 CAD deposit non-refundable to hold your spot and payment in full by September 17th. See details in tickets)
– After September 17th payment in full, $ 695.00 CAD, to hold your spot
PLEASE NOTE that HST and Eventbrite Fee are not included in the above price.
WHAT TO BRING
– Your Yoga mat
– Comfortable clothing for the Yoga practice
– Yoga blocks, blanket and strap if you have
– Water bottle
– Toiletries and towels
– Swim suit if the weather is nice
– Evening jacket/sweater and sock for campfire and if cold within the residence
– Walking shoes
– A journal and colouring pencil/markers
SCHEDULE OF THE RETREAT
Arriving Friday October 7th by 3pm
1. Friday schedule:
3:30-4:30pm: Welcome and Retreat overview.
4:30-6:15pm: Meditation, Pranayama & Yoga practice (Yang approach)
6:30pm: Dinner and individual time
8:00-9:00pm: Introduction to Classical Yoga Nidra & Yoga Nidra practice
Individual quiet time
10:00pm: Suggested lights out
2. Saturday schedule (observing silence until breakfast is completed)
6:00-6:30am: Meditation
6:30-8:00 Pranayama and Yoga practice (Yang approach)
8:15am: Breakfast and individual time
11:00am-12:15pm: Meditation, Yin Yoga
12:30pm: Lunch
2:00-2:45pm: Q&A about Yoga Lifestyle and Philosophy
2:45-4:00pm: Introducing F.R.Y. The Method
4:00-4:30pm: Break with fruits and vegetables trays
4:30-6:15pm: Meditation, Pranayama and Yoga practice following F.R.Y. The Method
6:30pm: Dinner and individual time
8pm-9pm: Circle of Fire on the beach
10:00pm: Suggested lights out
3. Sunday schedule (observing silence until breakfast is completed)
6:00-6:30am: Meditation
6:30-8:00 am: Pranayama and Yoga practice (Yang approach)
8:15am: Breakfast and individual time
9:30am: Labyrinth Walk Meditation
Room check out by 11am
11:00am-12:15pm: Meditation & Yin Yoga
12:30pm: Lunch
2:00-3:00pm: Classical Yoga Nidra
3:15-4pm: Closing session
CONTACT
Julia@FRYCanada.com
Sasy@FRYCanada.com
Phone: 519.770.YOGA (9642)