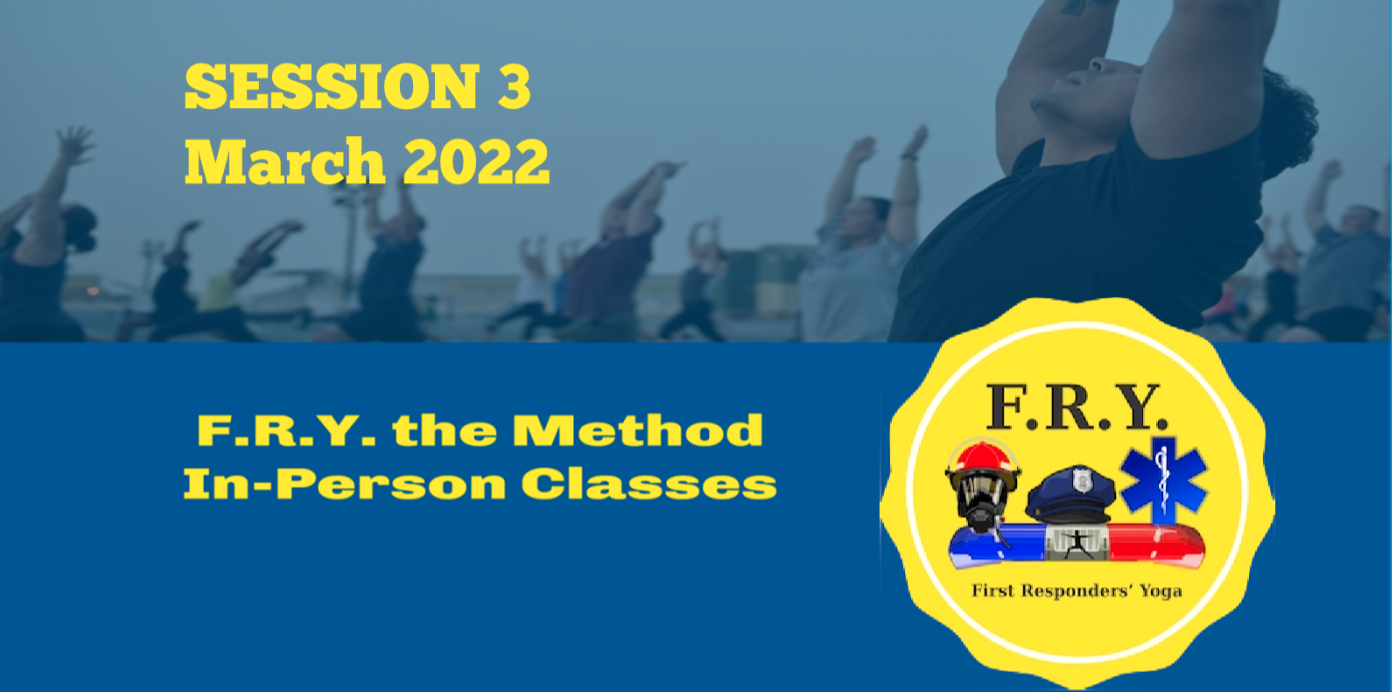 F.R.Y. The Method Classes (First Responders' Yoga) are comprehensive sessions incorporating breathwork, functional trauma-informed movement (both yang & yin), relaxation techniques, yoga nidra/positive affirmations, mindfulness and meditation, tailored for First Responders by First Responders and focusing on injury-prevention and management for both mind and body.
You are probably aware that First Responders
– Are 5 times more likely to incur a physical injury;
– Experience high anxiety and an inability to relax and "let go"; and
– Develop conditions such as PTSD and Depression in 30% of their ranks.
Did you know that breathwork, relaxation techniques, mindfulness & positive affirmation techniques, trauma-informed functional movement (both energetic and passive) and pauses in meditation can help alleviate these issues? So, JOIN US for a better life. No yoga experience needed.
Limited spot. Reserve HERE.
Session 3 dates: March 7, 14, 21 and 28, 2022
A TYPICAL CLASS OUTLINE:
– Opening
– Breathwork (Pranayama)
– Movement (Asana): Yang & Yin
– Positive Affirmations (Yoga Nidra)
– Relaxation (Savasana)
– Meditation
– Closing
YOUR INSTRUCTORS:
SASY CACACE
Sasy is a former Italian Police Detective and chief who has spent 20 years serving the Italian Government in the field of crime and narcotics. Knowing very well the stress and all the consequences that First Responder service can bring into the personal life of every single officer or member, Sasy was inspired to offer training for First Responders.
Drawing on his past in law enforcement and the knowledge he developed since 2005 in the fields of meditation, stress reduction, Yoga and trauma-informed movement, Sasy realized F.R.Y. is of value to paramedics, firefighters, police officers who put their lives at risk everyday on duty, and dispatchers who support them.
He is an Experienced Registered Yoga Alliance Instructor (E RYT-500) and a Yoga Alliance Continuing Education Provider (YACEP). He is the author of "The Key to Happiness" and "Yin Yoga" and co-author of "F.R.Y. First Responders' Yoga. The Book", all available on Amazon.
JULIA LONG
Julia (Dharma Gian Kaur) is an Advanced Sivananda Yoga Teacher, certified California College of Ayurveda (CCA) Yoga Nidra Teacher Trainer, and a Kundalini Yoga Teacher based in Ottawa, Canada. She has been teaching and providing CCA Yoga Nidra sessions in groups and privately for many years. She is currently the only Classically-based Yoga Nidra Teacher Trainer in Canada (CCA-YN). She is also a certified Canadian Fitness Professional (CanFitPro). She has over 1000 hours of yoga training, including trauma-informed movement. She has 2 sons who are First Responders which spawned the creation of F.R.Y. She has seen and heard how their duty has changed them and increased their stress levels. The demands of their jobs are impacting their physical and non-physical wellbeing.
Julia holds a Bachelor of Business Administration, a Bachelor of Laws and was a practicing lawyer. She has used her skills as a leader in the federal arena to help keep chemical substances of concern out of the Canadian environment. She is also a member of the International Society of Female Professionals. She is writing and publishing in various journals on topics of wellbeing.
Julia is a Registered Yoga Alliance Instructor (RYT-500) and also a Yoga Alliance Continuing Education Provider (YACEP). She co-authored "F.R.Y. First Responders' Yoga. The Book", available on Amazon.
Julia has classed herself as a "mobile yoga provider" travelling to talk, teach and study.