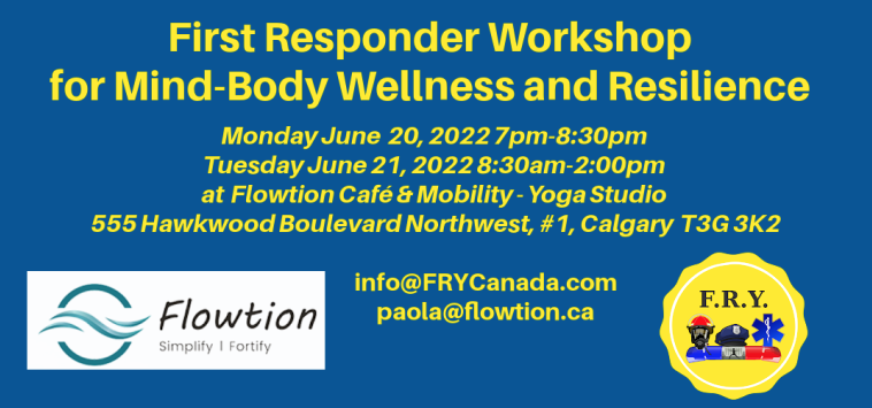 CALGARY ALBERTA: 5-hour FRY The Method Workshop for First Responders with FRY Canada
We are happy to announce another date for FRY ROAD TRIP.
June 20 and 21, 2022, FRY Canada is coming to Calgary Alberta at "Flowtion Cafe & Mobility Studio" with two opportunities to engage:
1. 5hr FRY The Method First Responder Workshop for Mind-Body Wellness and Resilience on June 21st 8:30AM-2PM (1/2hr break). Cost: $175+HST+Eventbrite fee
2.FRY is also offering a 90-minute Pre-Workshop class add-on in FRY The Method June 20th 7PM-8:30PM. Cost: $25+HST+Eventbrite fee. 
IT IS HIGHLY RECOMMENDED THAT YOU AND YOUR TEAMS ATTEND BOTH TO EXPERIENCE THESE TECHNIQUES WHILE THEY ARE IN SAULT STE MARIE!
This is the link to reserve your spot: https://www.eventbrite.ca/e/348205119887
Would like us to come in your city? Call us at 519.770.YOGA(9632), we are happy to collaborate.